Narwhal: Revealing an Arctic Legend
in collaboration with the Smithsonian Institution, National Museum of Natural History
WASHINGTON, D.C.
Charles Morrow Productions' assignment was to breathe life into a fascinating Narwhal exhibit at the National Museum of Natural History. This was accomplished by creating an original MorrowSound® soundscape comprised of above-water sounds of Arctic birds, the cold Arctic wind, and below-water sounds of narwhals vocalizing. The visitor also hears the Arctic ice moving and creaking.

The exhibit presents native Inuit perspectives on their connections to narwhals as well as the latest scientific knowledge about these fascinating animals. Through first-hand accounts from scientists and Inuit community members, the exhibition reveals how traditional knowledge and experience, coupled with scientific research, heighten our understanding of these animals—and of our changing global climate.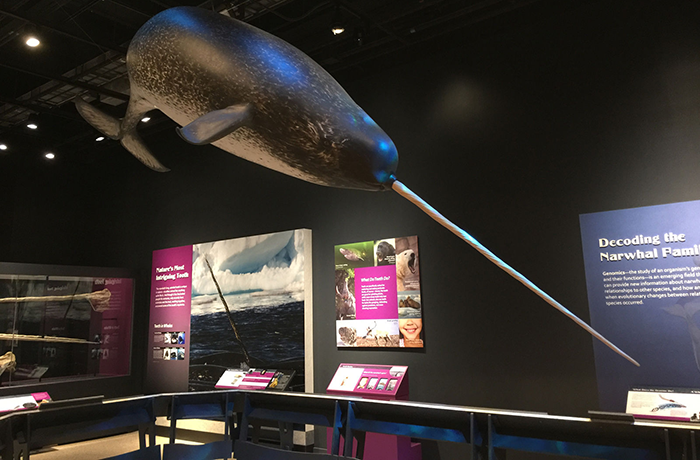 ◀ Return to Gallery
Back to Top ▲
---
Old Town Soundscapes
PORTLAND, OREGON
The Portland Old Town History Soundscape series is aural theatre. The challenge for CMP was to create an historical environment where those walking by are swept into the shifting landscapes of Portland's culturally historic past. This was achieved through layered combinations of voice, music, story fragments, ambient and recorded effects which were projected from the facades of four historic Old Town buildings. Four sound installations recreated the fabric of the street and the lives of ethnic workers and residents who occupied those buildings in the 19th Century.

This project was created by the Old Town History Project's Jacqueline Peterson-Loomis, recorded and mixed by Larry Johnson, and produced in association with MorrowSound® for Innovative Housing, Inc.
◀ Return to Gallery
Back to Top ▲
---
Planetarium Wolfsburg
WOLFSBURG, GERMANY
Planetariums fascinate visitors by taking them into outer space. It is a unique experience. To make that experience as realistic as possible, MorrowSound® has created a powerful and unique sonic environment for the visitors. Using MorrowSound's patented sound processes, the sound can be controlled to be fluid or static; to jump over visitors or to pass around them; to assemble and disassemble. It is unlike any sonic experience the guests have experienced.

MorrowSound® designed a powerful system upgrade by adding speakers in the dome overhead and on the floor level. This unique array creates a fully immersive and layered soundscape.

MorrowSound® is integrated with Evan & Sutherland's Digistar 5 in association with input from Planetarium Wolfburg's staff. Sound controls appear on the Digitar GUI screen. The system can be operated in the planetarium space on wireless devices such as an iPad or iPhone.

MorrowSound® syncs celestial objects with sounds. It has inputs for client sound sources and can utilize third party sound processors.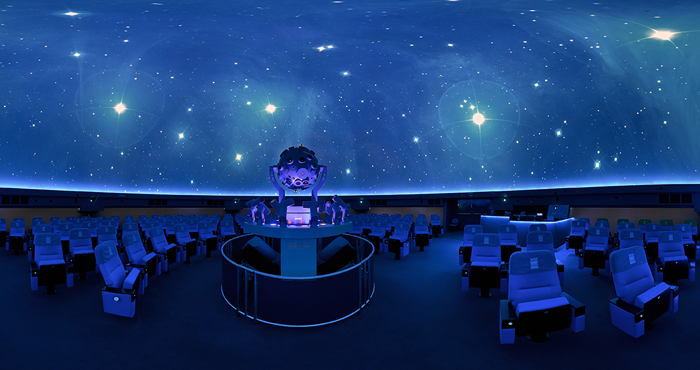 ◀ Return to Gallery
Back to Top ▲
---
Laura Poitras: Astro Noise - "Bed Down Location"
Whitney Museum of American Art
MANHATTAN, NEW YORK CITY
Laura Poitras' installation, Bed Down Location, 2016, is a projection of the night skies over Yemen, Somalia, and Pakistan—countries where the U.S. military conducts "targeted killings" using unmanned aircraft. The title of the work refers to the military term denoting where a targeted person sleeps.

Morrowsound® designed an immersive soundscape for this installation, which created a white noise in the room that makes the sensation of watching the film, while lying prone on the room-sized bed, a meditative yet anxiety-producing experience.

The work also includes footage from Creech Air Force Base in Nevada, where the military tests and flies drones. The video is shown on the ceiling of the gallery space, and a raised platform invites visitors to lay back and gaze at the skies where the drone wars are conducted.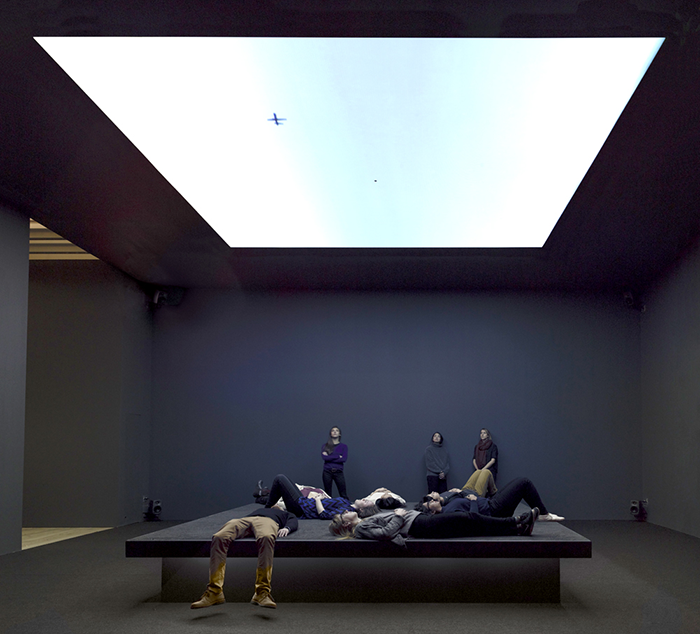 ◀ Return to Gallery
Back to Top ▲
---
OUE Skyspace - Observatory Touchscreen
LOS ANGELES, CALIFORNIA
Charles Morrow Productions added a very exciting attraction to the tallest building in Los Angeles. Our touchscreen Zoom Tour features panoramic Los Angeles as seen from Skyspace observation floor, with hotspots, architectural photos of eighteen key sites in L.A., and the US Bank building. The visuals include a panorama detailed of close-ups. The noted architectural photographer Tim Griffith provided the stunning photography. This interactive panorama of Los Angeles seen from Skyspace uses our own app.

Our programmers made it possible for multiple visitors to explore the touch images at the same time. The touchscreens correspond to the real scenes viewed from the Observatory windows.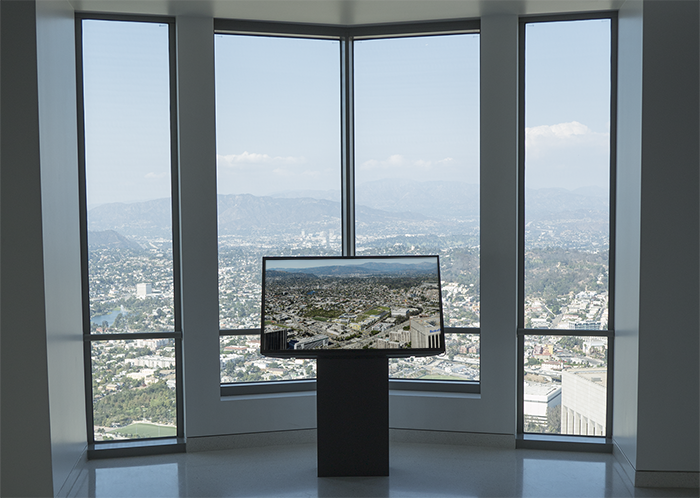 ◀ Return to Gallery
Back to Top ▲
---
Impact Hub Santa Barbara
SANTA BARBARA, CALIFORNIA
Charles Morrow Productions designed and installed an immersive sound system in a business incubator suite to promote creativity and productivity. Our office pilot project, the Impact Hub Santa Barbara, is the only co-working space in the world with a modular 8.1 cube environment space combined with stereo soundscape technology designed for this purpose. The atrium event space can be used as a performance space for multichannel audio, as well as a central lecture space with perfect clarity of the speaker's voice, whatever the seating arrangement. Throughout the day, office staff listen to a wide palette of soundscapes to help them stay engaged and to promote a positive office experience.
◀ Return to Gallery
Back to Top ▲
---
Supercell Entrance
in collaboration with architect Randy Stegmeier
SAN FRANCISCO, CALIFORNIA
Sound can provide context for a company's building portal. The installation we did for SuperCell is located on the top floor of the iconic Bank of America building. Rapid elevators deliver the visitor to a sky tower hallway to search for the unmarked big black door. The guest rings the bell, talks to a person and awaits the door sliding open. In the small entrance space visitors take off their shoes and put on slippers. While doing this a cloud of SuperCell game sounds is being juggled by the MorrowSound® system. One quietly slips through the dense game sounds and into the SuperCell office with grand views over the harbor and of clouds. Entrance sounds fade quickly as one walks into the HQ space. It is amazing to be part of architect, Randy Stegmeier's breath-taking entrance experience.
◀ Return to Gallery
Back to Top ▲
---
VIX Cinema Ride
in collaboration with Sensorama, New York
RIO DE JANEIRO, BRAZIL
How do you animate the silent undersea world? You call on MorrowSound®. In a shopping mall attraction visitors take a virtual ride in an undersea vessel. The "submarine" is installed with our proprietary sound system. Visitors hear the motors, evade sea creatures who attack, admire beautiful passing schools of fish and experience the danger of being sunk.

MorrowSound® developed this soundscape for the 24-person ride on a sensory experience of an underwater voyage. As the ride accelerates, guests will feel their hair blowing in the wind, simulating the sensation of levitating through air. Fragrances are filtered into the space as guests journey through the forbidden forest, while hints of mist are emitted once the ride plunges towards the deep ocean. The simulation experience, which is designed for families and thrill-seekers alike, suitable for ages four and older, allows passengers to travel to virtual underwater thousands of feet below ground.
◀ Return to Gallery
Back to Top ▲
---
Kaiser Permanente Santa Monica
SANTA MONICA, CALIFORNIA
Medical facilities often are anxiety-producing locations. To ease visitors' tensions, we recorded the sounds of nearby Pacific Palisade Park in 3D under the supervision of the Cunningham Group and interior architect, Ashley Maxwell. The clinic waiting areas are themed to the Park, with exact park benches, photo panoramas and vertical gardens. To engulf visitors in this experience we created a soundscape that includes joggers, cyclists, crowds of passersby, buses, dogs and a flagpole pinging in the wind.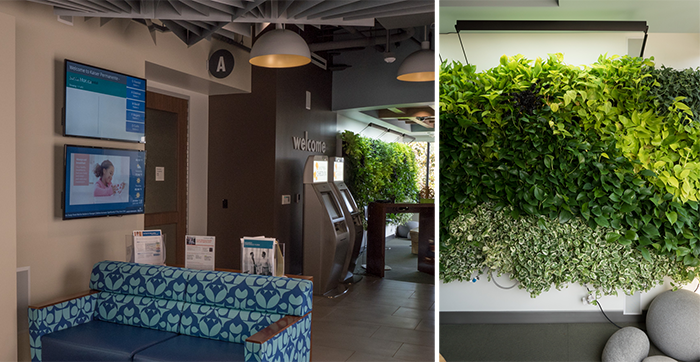 ◀ Return to Gallery
Back to Top ▲
---
Lincoln Castle Revealed
in collaboration with Ralph Appelbaum Associates, London
LINCOLNSHIRE, UNITED KINGDOM
Our challenge on this project was to recreate the experience of visiting a centuries old British prison. So, we wrote and produced a soundscape animating the prison walk-through experience. The sounds of prisoner footsteps mixed with cell doors closing and muffled men's voices. We also produced a sermon which is delivered in the prison chapel and we recorded the Lincoln Cathedral Choir to enhance the visit to the Magna Carta Vault. This was produced and installed by CMP in time for the Castle's 2015 reopening.
◀ Return to Gallery
Back to Top ▲
---
1817 James Brown House - Ear Inn
MANHATTAN, NEW YORK CITY
It's already a novel experience dining in a two hundred year old tavern in Lower Manhattan. CMP was called upon to eliminate sound leakage from the legendary Ear Inn restaurant through walls and ceiling of the old historic James Brown House above the Inn. After conducting an acoustical survey, we designed and installed a MorrowSound® 3D sound system allowing patrons to converse easily in the dining room while listening to audiophile-quality music.
◀ Return to Gallery
Back to Top ▲
---
Oregon Ducks - Hatfield Dowlin Football Complex
EUGENE, OREGON
The University of Oregon Ducks football team wanted to record and recreate the loudest football stadium in the world; and we knew just how to do it. The Oregon Football Operations Center's Ring Room now features multiple CMP sound stories that capture the immensity and feel of this world-class team in action. CMP recorded the stadium crowd sounds, including the school band. Our MorrowSound® installation achieves an immersive football stadium experience. We also created a MorrowSound® lobby experience, filled with the expanded stereo soundtracks of the jumbo-screen football videos and ambient music.
◀ Return to Gallery
Back to Top ▲
---
Microsoft - Microtropolis
MANHATTAN, NEW YORK CITY
Microsoft called on CMP to stage their newest software release in a miniature model of Manhattan, they found just the right sound artists for the job. Having lived and worked in NYC since the 60's, our team combined its historical and geographical knowledge to produce a MorrowSound® 3D audio experience for each particular neighborhood and different times of day. The sound was delivered to each "neighborhood" through overhead speakers strategically located around the miniature model, so visitors not only viewed Manhattan neighborhoods; they experienced them through sound.
◀ Return to Gallery
Back to Top ▲
---
Long Island Children's Museum
GARDEN CITY, NEW YORK
How can we better "see" through sound? What's the difference between sound and music? CMP applied its 45 years of audio experience to provide entertaining answers for this marvelous museum. Our interactive soundscapes were used to teach aural literacy to children of all ages. On-location sound system training provided museum educators with full control over their sound. We produced soundscapes, including an aural visit to a farm for the young children including a virtual train ride to the farm and a virtual walk through the barnyard hearing all of the farm animals.
◀ Return to Gallery
Back to Top ▲
---
Jewish Museum and Tolerance Center
in collaboration with Ralph Appelbaum Associates, New York
MOSCOW, RUSSIA
It's no wonder CMP was picked to contribute sounds to what has been hailed as Moscow's "Jewish Disneyland." To meet the cultural and historical needs of this groundbreaking space, we combined extensive research, audio collage, and the expertise of our multilingual in-house translator to recreate the real sounds of a 19th-Century Russian shtetl marketplace.

CMP's contributions are housed in two of the twelve exhibitions that make up the museum. Immersed in a life-sized recreation of the marketplace, visitors encounter sounds designed by Charlie Morrow and Tyler Clausen. Carts are heard rolling across cobblestones, market-goers chatter through the streets and a vendor calls in Yiddish, "salt pickles," "apples!" and "cherries," spoken by the voice of CMP's very own Maija-Leena Remes.

Elsewhere in the museum is CMP's sonic contribution to an interactive, animated timeline that documents six stages in Jewish migrations over three millennia, from the Promised Land to modern Russia. Combining found music and sound, this soundscape recreates the sounds of Jewish culture as it has evolved through place and time.

Housed in a world-famous Constructivist masterpiece designed in 1926 by Konstantin Melnikov and Vladimir Shukhov, the building and museum are a must-see for Russians and tourists.
◀ Return to Gallery
Back to Top ▲
---
Arcanum 17
CANADA-EUROPE TOUR
CMP recorded the Arcanum soundscape on location at the famous Roche Percé, Canada which looks like a roman aqueduct in the bay.

MorrowSound® 3D has regularly been employed in live events, but Arcanum 17 raised the bar by combining live performance with recorded, immersive audio. In collaboration with composer contrabassist Christopher Williams and composer/tubaist Robin Hayward, we brought Andre Breton's 1943 book to life as a 45-minute, expansive audio experience.

As an accompaniment to the tour, CMP launched The Arcanum 17 blog, showcasing interviews, an audio trailer, videos, photos, and news from the tour. Arcanum 17 is available for live performance in your gallery, concert hall, and beyond. For booking information, please contact us here, or at info@cmorrow.com.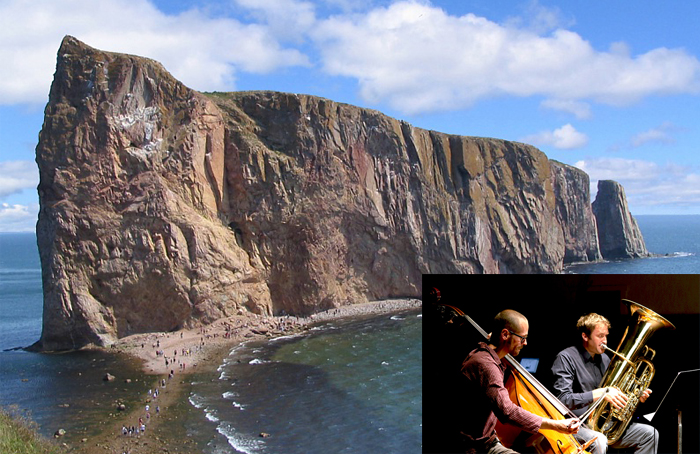 ◀ Return to Gallery
Back to Top ▲
---
South Florida Science Museum
WEST PALM BEACH, FLORIDA
Based on an Anthony Lualdi design, CMP created a soundscape with continuous Everglades ambience and 15 push button sounds. Tony reported that people are having a fabulous time pushing the 15 buttons that trigger the 15 sounds. We acquired authentic Everglades sounds from Elam Stolzfus, a Florida-based natural environment video maker.

CMP previously collaborated with Tony in creating a heartbeat machine for the American Heart Association in Phoenix Arizona.
◀ Return to Gallery
Back to Top ▲
---
Spokane Water Resources Center
in collaboration with Renate, Portland
SPOKANE, WASHINGTON
In collaboration with a bright new design team, Renate, based in Portland, Oregon, CMP created a water soundscape for visitors entering and leaving the Center through a silo structure, taking unique advantage of the silo echo. Working with Renate Design, CMP took a dull-looking entrance area and reimagined it to an area of the unexpected; a place of fun and pride for the community. The exhibit engages visitors in understanding natural and engineered water reclamation systems, raises awareness of wastewater treatment and inspires sustainable practices and water conservation.
◀ Return to Gallery
Back to Top ▲
---
Magic Forest & Aviary at Nationwide Children's Hospital
in collaboration with Ralph Appelbaum Associates, New York
COLUMBUS, OHIO
Among giant trees and forest friends filling the Magic Forest, anyone sitting in the newly appointed hospital waiting room will be surrounded by sounds of distant birds, wild animals and the occasional cricket and frog at night. It is intended to be an environment that engages children and adults alike, reducing the stress of a child's hospital visit.

The Aviary has dozens of virtual colorful birds in sonic flight patterns. Birds are heard taking off from the ground and flying overhead. MorrowSound® also added the peaceful sound of a river that flows through the hallway. This soundscape is always changing, as sounds of a natural forest change throughout the day. Mornings are calm while afternoons are full of life. The sounds of birds and animals are produced at random, resulting in no two days being alike. And the sounds change by season as well.

No matter what day of the year you visit the Children's Hospital, you will experience an original soundscape of the most vivid depiction of the outdoors.
◀ Return to Gallery
Back to Top ▲
---
LAND SEA AIR at Arup Headquarters
LONDON, UNITED KINGDOM
CMP's original exhibit, LandSeaAir, was installed at the headquarters of Arup, the renowned structural engineering and acoustical design firm. Sound artist Charlie Morrow explored through three-dimensional immersive sound man's relationship with the environment and its ecological changes.

The visitor hears sounds from different epochs ranging from giant dragonflies of the Carboniferous period to the internet and the circuitry of our contemporary digital era. To complement Morrow's sonic journey the exhibition includes Geo Portrait Earth (1999) by American filmmaker Gina Angelone and Time Spiral Cosmic Clock, a sculpture designed specifically for the exhibition by Finnish industrial designer Hannu Kähönen. Both works address our perception and experience of the passing of time.

The exhibit illustrates CMP's ability to harness the work of artists with our unique sonic technology.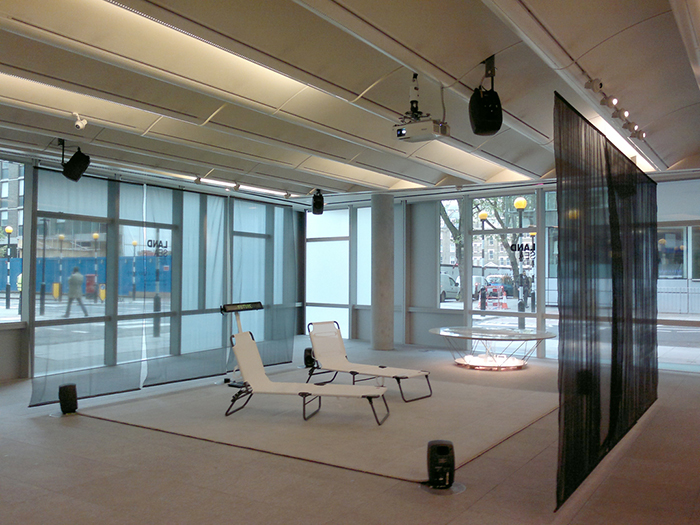 ◀ Return to Gallery
Back to Top ▲
---
Marimekko New York Flagship Store
MANHATTAN, NEW YORK CITY
Working with the client, MorrowSound® demonstrated the effectiveness of an audio experience for the shopping environment. This was one of five Marimekko store to employ MorrowSound® .

This project aimed at creating a truly immersive in-store experience for customers and staff. Since Marimekko's designs are closely linked to and inspired by nature, CMP introduced creative soundscapes that blend music and natural sounds together, i.e., calm rainfalls, quiet bird song or simply a tranquil forest ambience. MorrowSound® can be adapted to enhance any retailer's brand and location.
◀ Return to Gallery
Back to Top ▲
---
AHEAD! at the Habitare Design Fair
HELSINKI, FINLAND
Seagulls, boat horns, kids playing, dogs, and army marching band sounds create a MorrowSound® 3D real-life replica of a Helsinki marketplace environment. This soundscape was created exclusively for the 2,000 sq meter AHEAD! show at the Habitare Design Fair in Helsinki.

This collaboration with Hannu Kähönen's CreaDesign and Anteeksi was a popular attraction and an alternative experience in the highly commercial design show. CMP mixed MorrowSound® soundscenes with localized sounds for a jolly, familiar market atmosphere. Our HiLo speaker format supports ear level conversation for pleasant cafeteria and retail experiences.
◀ Return to Gallery
Back to Top ▲
---
Sonic Wind Sails
COPENHAGEN, DENMARK
Sonic Wind Sails was a major art installation in Denmark. It was developed by Jes Vagnby Architecture in collaboration with Charles Morrow Productions, along with the Copenhagen International Theatre with Trevor Davies, Roskilde Festival, and others.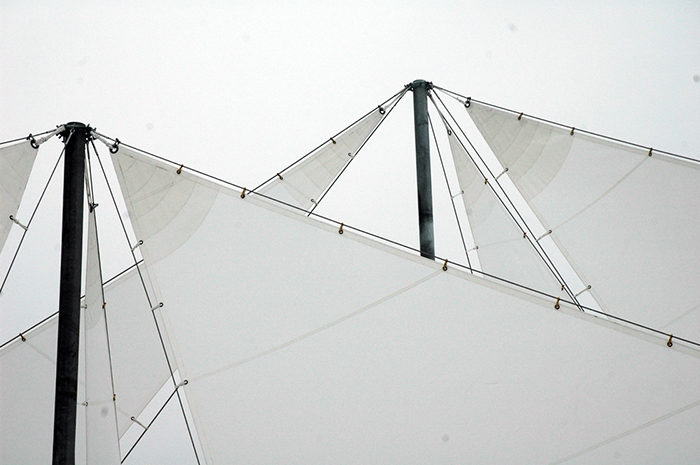 ◀ Return to Gallery
Back to Top ▲
---
Fortaleza Hall, SC Johnson Inc.
in collaboration with Ralph Appelbaum Associates, New York
RACINE, WISCONSIN
SC Johnson's world headquarters was visually beautiful, but plagued by acoustic shortfalls. Our remedy was a thin veil of immersive rainforest sounds to subtly enhance the visitors' experience. To ensure freshness, different sounds of nature change throughout the day in harmony with the weather outside.

The Soundscape at SC Johnson, an iconic CMP project, is a thin veil of MorrowSound® sound that harmonizes with the environment and creates a layered, ever changing sonic atmosphere in Fortaleza Hall. Created using Fortaleza, Brazil environmental sounds, the Soundscape combines with a water feature and air handler sounds, as well as the footfalls and conversations in Fortaleza Hall, all driven by Racine conditions such as wind and rain, light and dark.
◀ Return to Gallery
Back to Top ▲
---
Smithsonian Instution, Arctic Studies Center
in collaboration with Ralph Appelbaum Associates, New York
ANCHORAGE, ALASKA
The sounds of the arctic are the indigenous calls and voices of the far north. The melting of ice and snow; the flapping and galloping of indigenous wildlife; and other authentic sounds went into the creation of this original Soundscape.

The visitor hears sounds from different epochs. This audio environment was created by people whose communities have resided in Alaska for many millennia. This exhibit pays homage to the stories of the native population and brings to life their environment.

The audio programs in the Soundscape will change regularly. These programs will be created by members of Alaskan Native communities and sound artists as a result of workshops conducted by Charlie Morrow at the Arctic Studies Center.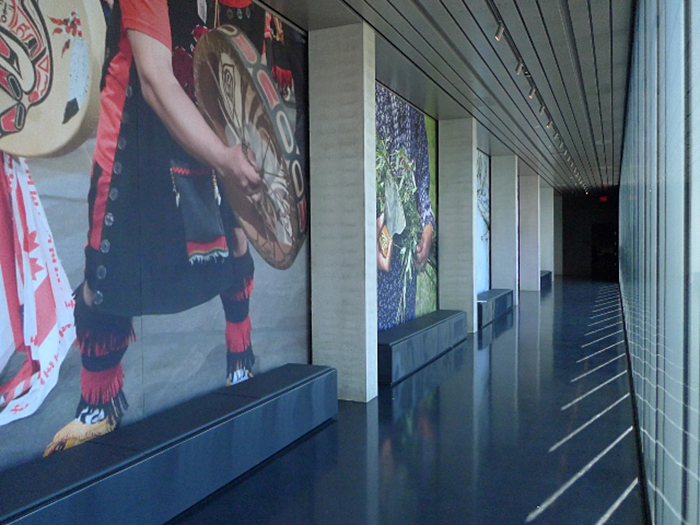 ◀ Return to Gallery
Back to Top ▲
---
Target's Kaleidoscope Fashion Spectacular
MANHATTAN, NEW YORK CITY
Sound can be created not just for indoor controlled space, but to be heard in the great outdoors. Charles Morrow Productions created a soundscape for Target's outdoor extravaganza featuring an innovative light show from Daft Punk's lighting designer and dancers performing in front of the windows of the Standard Hotel's rooms. A wonderful celebration in one of New York's fastest growing chic neighborhoods.

www.nydailynews.com/life-style/invited-target-exciting-runway-extravaganza-set-new-standard-spectacle-article-1.205561
◀ Return to Gallery
Back to Top ▲
---
Royal Soundscapes
in collaboration with Ralph Appelbaum Associates, New York
ESRUM, DENMARK
The concept for Royal Soundscapes of North Sjaelland is to work with layers of sound presented on a MorrowSound® 3D loudspeaker array with tall speaker stands festooned with royal banners. The presentations were outdoors on the historical sites of the stories. Each location changed the overall experience. In addition, a light show started and ended each performance.

Stories were created, based on historical sources, which formed the basis for several sound installations that soundscape artist Charles Morrow Productions and students from the Tonespace Program in Esbjerg, Denmark prepared for the event.
◀ Return to Gallery
Back to Top ▲
---
Steelcase Lobby
MANHATTAN, NEW YORK CITY
Steelcase, a major designer and manufacturer of office furniture, invited CMP to design two soundscapes and visual installations for the lobby in their Manhattan headquarters. In their comings and goings, employees and visitors discover a multimedia presentation demonstrating how sound, light and color improves well-being in living and working environments. The lobby became a playful space of discovery and reflection for visitors and staff alike.
◀ Return to Gallery
Back to Top ▲
---
Nokia World 72-Speaker Immersive Soundscape
BARCELONA, SPAIN
It was a great pleasure to collaborate closely with Nokia on every element of this massive MorrowSound® 3D sound tunnel. As a team, we worked closely together on concept, scripting, and sound timing. Visitors even found themselves as unwitting collaborators when their motions triggered the sounds of an ocean wave crashing down the tunnel, a jet plane landing and more.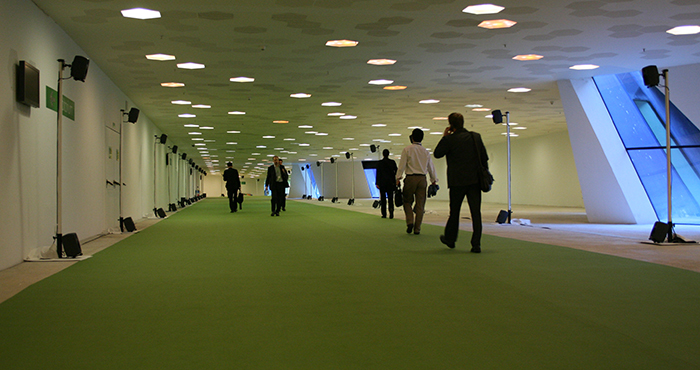 ◀ Return to Gallery
Back to Top ▲
---
Joggins Fossil Centre: Creation of the Carboniferous Period
HALIFAX, NOVA SCOTIA
While no one was around to record sound in the carboniferous period, CMP installed a sound system in a giant tree trunk, with projected animation and spatial sound to recreate a three-minute day in the life that ancient era in the distant past.
◀ Return to Gallery
Back to Top ▲
---
Pro Football Hall of Fame
CANTON, OHIO
A 3D sound experience of pro football sounds and voices.
◀ Return to Gallery
Back to Top ▲
---
Listening to the River, Great Lakes Children's Museum
TRAVERSE CITY, MICHIGAN
A master 3D soundscape and numerous interactive exhibits teaching management of the Lake Michigan ecosystem to children.

MorrowSound® lends itself to integration with other sensory technologies. Through the use of GestureTek projection, an interactive body of water was projected on the floor of the exhibit. Guests marveled as each footstep sent ripples and scattered fish. The video was shot in Lake Michigan. Flush flat rock surfaces with graphics were distributed along the bank and in the "water" itself allowing kids to jump from rock to rock if they chose. Along the length of the stream overhead speakers played a loop of the sound of rushing water and other watershed sounds.
◀ Return to Gallery
Back to Top ▲
---
Echoes from the Mountains, 2006 Winter Olympics
SIESTRIERE (TORINO), ITALY
Charles Morrow Productions was honored to provide an outdoor installation for the winter Olympics in Torino. For two weeks our sound installation endured the wind, snow and ice of the wintry Alps. Visitors to the winter Olympics bundled together to hear a playlist of immersive audio created by international sound artists and performed through CMP's unique sound system.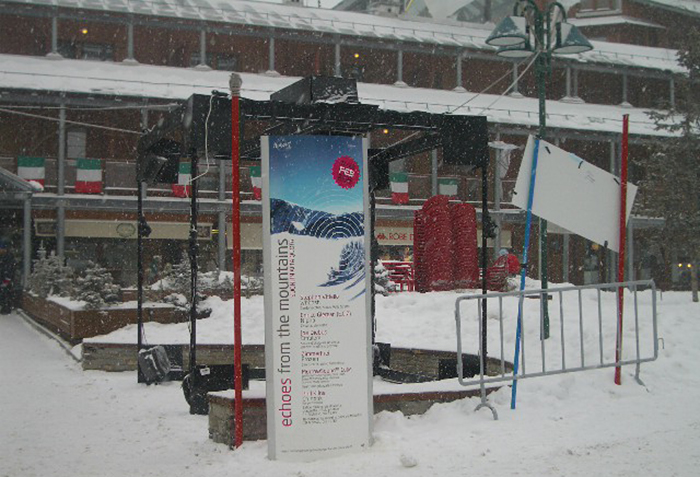 ◀ Return to Gallery
Back to Top ▲
---
St. Clair Bridge
INDIANAPOLIS, INDIANA
Indianapolis wanted to create a sound & light experience for the public. CMP was tapped to provide the sound. Speakers and wires were placed under a bridge as a permanent outdoor audio piece that played for three minutes every fifteen minutes, using four different three-minute sound collages representing how sound would be if it changed season by season. We created the original content.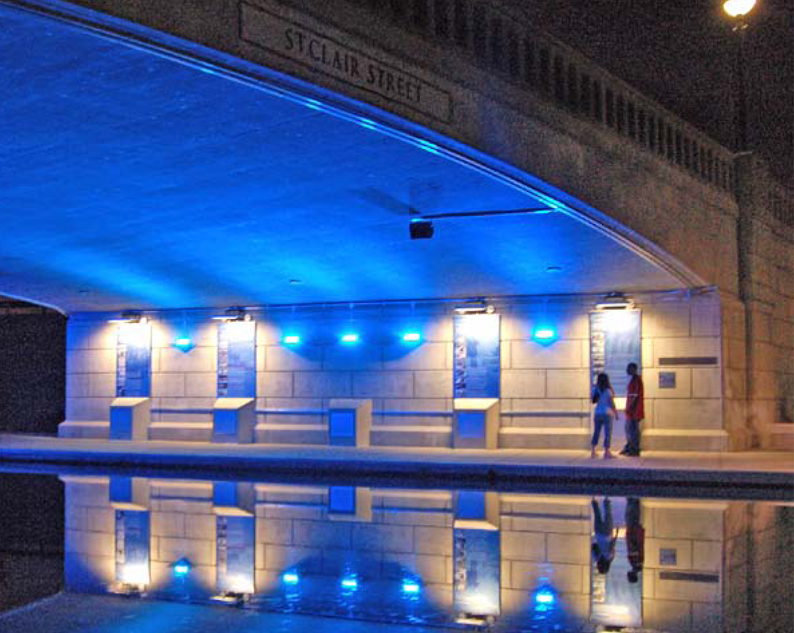 ◀ Return to Gallery
Back to Top ▲
---
Audubon's Aviary
MANHATTAN, NEW YORK CITY
The Historical Society wanted to make the exhibition of its Audubon collection come to life for visitors. We installed speakers and sensors below each painting and as the visitor passed by, one heard the sound of that particular bird. In addition, twenty-four 3D-cubic loudspeakers in five connected "sound cubes" stretching through the long hall, provided both overall ambience and the effect of a flock of ducks flying overhead across the ceiling of the long exhibit hall.
◀ Return to Gallery
Back to Top ▲
---
Launch of the MorrowSound® 3D Sound Cube
MANHATTAN, NEW YORK CITY
Produced by Charles Morrow Associates Inc., Harvestworks Digital Media Arts Center, The Kitchen
Curators: Charlie Morrow, Stephen Vitiello, Christina Yang
Coordinator: Michael J. Schumacher

Olivia Block, Douglas Henderson, Shelley Hirsch, The Illustrious Company (Martyn Ware/ Vince Clarke),
Steve McCaffery, Miya Masaoka, Charlie Morrow, Phill Niblock, Scanner Michael J. Schumacher,
Stephen Vitiello, Pamela Z
◀ Return to Gallery
Back to Top ▲
---
Invention of the MorrowSound® Cube
WASHINGTON, D.C. & DENVER, COLORADO
Spatial sound delivery systems, VIS smart projection plus spatial sound for the Smithsonian National Museum of Natural History and for Denver Museum of Art and Science Gates Planetarium, 2004.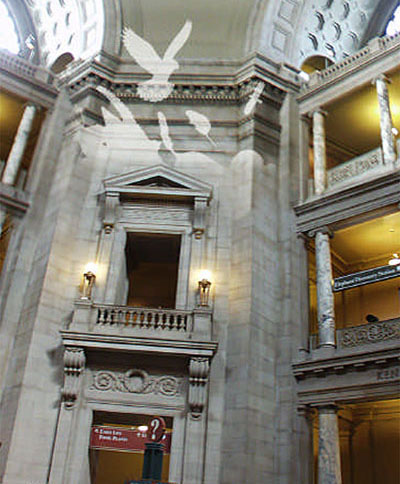 ◀ Return to Gallery
Back to Top ▲
---
Tony's New York Audio Tours
MANHATTAN, NEW YORK CITY
Creation of the venture, visitor experience and audio tours in eight languages at The Empire State Building Observatory, NYC, 2003.
◀ Return to Gallery
Back to Top ▲
---
Great Platte River Road Memorial Archway Monument
KEARNEY, NEBRASKA
Winner of a THEA award, 2001. The production of an audio tour and eleven audio environments for a new museum in Kearney, Nebraska called The Great Platte River Road Memorial Archway. The Audio Tour uses actors voicing the journals and personal accounts of pioneers, adventurers and public figures. Augmented by authentic sound effects, the total effect resembles a series of tiny radio plays. For each of the eleven zone areas we designed and created a series of specific soundscapes. These soundscapes are accurate recreations of the winds, weather, insects, animals and human sounds of each locale and era.
◀ Return to Gallery
Back to Top ▲
---
Vikings! @ National Museum of Natural History
WASHINGTON, D.C.
The Vikings! exhibition commemorated the 1000-year anniversary of the Viking arrival in North America and explored the historical impact of new archaeological finds that have redefined the world's knowledge of early North American and Scandinavian life.

Audio and AV production. Vikings, cover story for Time Magazine and New York Times.
Time Magazine: The Amazing Vikings
NY Times: Exhibition on Vikings' Heyday Recasts Their Brutish Image
◀ Return to Gallery
Back to Top ▲